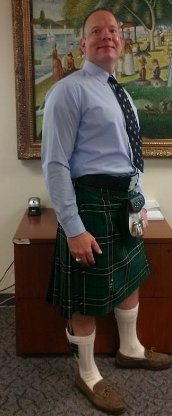 -

Scotsman

Henry Sinclair's voyage to America (100 years before Christopher Columbus)
-John McGregor, Bagpiper at the Alamo
-Darien, GA-Scottish Highlanders Colonization of & defense of Georgia

from the Spanish
-Disappearing Lakes, The Blarney Stone & Fairies, the magic of old Ireland
-So where did the Celts actually come from?
-Saints Brigid of Kildare , Patrick and Columba, Ireland's Patron Saints
-Alexander McGillivray, Scots-French-Indian who became the principal chief of the Creek Indians
-

The Loch Ness Monster (Nessie)
- Spanish Armada shipwrecks on the Scottish Coast
-Mary, Queen of Scots
-Dance around the May-pole, The four Celtic Seasonal Festivals
-Beyond Haggis & Shortbread, Scottish Cuisine
-From Highland Charge to Rebel Yell
-Scottish Regiments Service in WWI
--So, what exactly made a Scot a Highlander?
-S

cotsman Patrick "The Bulldog" Ferguson, the only native

Britain at the Revolutionary War battle of Kings Mountain
-Scottish Covenanters 1600s Presbyterian movement
-Battle of Moore's Creek Bridge, the last Highland Charge
-Un

i
c

orns
, Selkies, Mermaids, mythological Celtic creatures
-Ghosts & Haunted locations in Scotland
-Black Sheep, 1st Footing & other Scottish Superstitions
-

Amazing Scottish Castles
-Shinty, Hurling, Camogie; Celtic Field Sports
-Captain Kidd, Scottish Sailor & Pirate
-The Threepeat of the Jacobite Risings
-Viking invasions of the British Isles & everywhere!
-Arthur Conan Doyle, Robert Louis Stevenson, Sir Walter Scott- Great Scottish Authors
-Gaelic, Scots, Old Norn, Scotland's other languages
-The history of Tartans & Kilts
-History of Scotch Whisky (please note; no E)
-Why the Scots

& Scots-Irish immigrated to America
-Highland Regiments Service in America
-Scuttling of the WWI German fleet at Scapa Flow
-Scottish physician Dr. Andrew Turnbull and his 1,500 Minorcan laborers on his Florida plantation at New Smyrna
-Scotsman James Grant, Govenor of British Colony of East Florida and Revolutionary War General